Casselman, Ontario is a small village in The United Counties of Prescott and Russell approximately 55 kilometres east of Ottawa

The village of Casselman is a growing community in eastern Ontario on the South Nation River. Casselman's strategic location and its numerous services and businesses for its residents and visitors makes it a great place to invest in residential and commercial real estate.

Casselman has as a direct access to highway 417 between Ottawa and Montreal about 55 km southeast of downtown Ottawa and 30 minutes of Cornwall. The U.S. border is about 50 minutes away.
Casselman has a population of 3,548 (2016). This municipality was named after Martin Casselman who built a sawmill near the site of the current town in 1844. Its modern water and sewer services are operational since 1977.  Casselman has a Via Train station (Montreal-Ottawa route) with stops twice a day in each direction.
The Drouin Farm is a centennial farm located in Casselman. It is an educational and recreational facility for different groups: schools, day-care centres, summer camps, scouts, families, seniors' clubs, weddings, wedding anniversaries, organizations, businesses, etc.  Casselman's tourist attractions also include the Cassel Brewery, the High Falls Conservation Park and the Casselview Golf and Country Club as well as numerous hotels and restaurants. It is only one exit away on highway 417 to the Calypso Water Park and 12 km away to the Countryside Adventures Park in Moose Creek.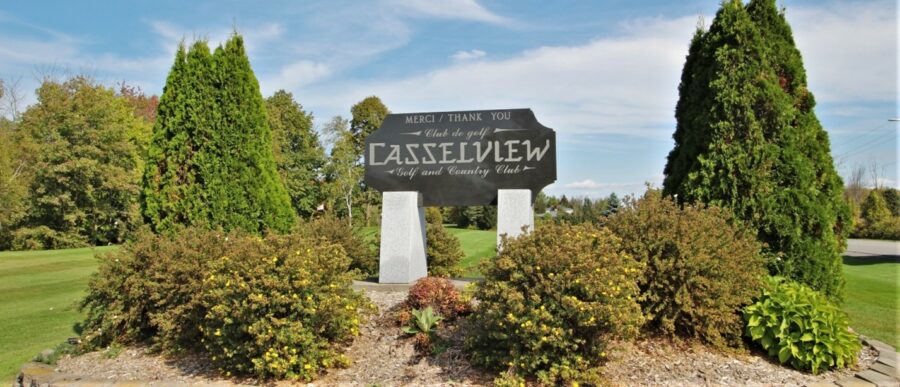 Anyone interested in investing in real estate should consider Casselman for all its benefits.
Casselman is definitively a great choice when it comes to investing in real estate.
See current properties for sale in Casselman.
List a property to sell in Casselman.
Casselman, Ontario est un petit village situé dans les Comptés Unis de Prescott & Russell à 55 km au sud-est d'Ottawa.
Le village de Casselman est une communauté grandissante dans l'est de l'Ontario, sur la rivière Nation Sud. L'emplacement stratégique de Casselman et ses nombreux services et commerces pour ses résidents et visiteurs en font un endroit idéal pour investir dans l'immobilier résidentiel et commercial.

Casselman a un accès direct à l'autoroute 417 entre Ottawa et Montréal à environ 55 km au sud-est du centre-ville d'Ottawa et à 30 minutes de Cornwall. La frontière américaine est à environ 50 minutes.
Casselman compte 3 548 habitants (2016). Cette commune a été nommé d'après Martin Casselman qui a construit une scierie près du site de la ville actuelle en 1844. Ses services d'eau modernes et d'égout sont opérationnels depuis 1977. Casselman a une station de train Via (route Montréal-Ottawa) avec des arrêts deux fois par jour dans chaque direction.
La Ferme Drouin est une ferme centenaire située à Casselman. C'est un établissement éducatif et récréatif pour différents groupes: écoles, garderies, camps d'été, scouts, familles, clubs pour personnes âgées, mariages, anniversaires de mariage, organisations, entreprises, etc. Les attractions touristiques de Casselman incluent également la Microbrasserie Cassel, l'aire de conservation High Falls, le Club de golf Casselview ainsi que de nombreux hôtels et restaurants. Il se trouve à seulement une sortie sur l'autoroute 417 du parc aquatique Calypso et à 12 km du parc Countryside Adventures à Moose Creek.
Toute personne qui souhaite investir dans l'immobilier devrait considérer la municipalité de Casselman pour tous les avantages qu'elle représente.
Casselman est donc une communauté à haut potentiel et en fait un choix certain pour l'investissement immobilier.
Voir les propriétés à vendre à Casselman